It was supposed to be a way to spend a restless evening, nothing more.
It was supposed to be a chuckle, an eye roll and maybe one or two times when I said, "Not bad."
Then a lanky young man with bad clothes and hair styled by an eggbeater opened his mouth and sang twenty seconds of "Always and Forever."
Twenty seconds… and now I've arrived at the day when I have four years of memories of Clay Aiken.
Clay has been his own soundtrack to the images, the photographs and the memories I've treasured since the day his American Idol audition was televised. There has been so much music to delight in, so many things to celebrate, so many moments to enjoy since I first saw Clay during that second season broadcast. It was a fun and exciting time, but I don't think about those Idol days much anymore. Those early days of promise recede in my memory, displaced by other songs, greater accomplishments and my interest in his ever-evolving talent.
First --- always first --- there is that voice. With it, a thousand images tumble through my mind. My memories are part music box, part kaleidoscope.
Spin the wheel, and it's the summer of
2003
. Clay is on the AI2 tour. He's back in his home state of North Carolina, and he is very, very happy. When he smiles, there is a glow from within like a luminaria.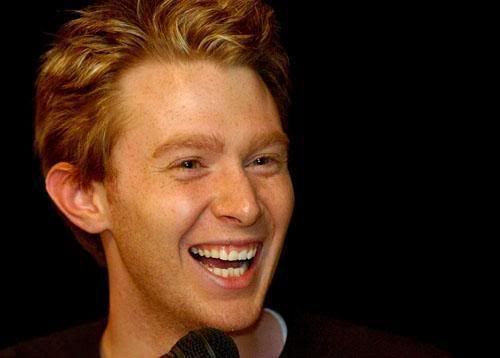 When I see that photo, I hear his goofy laugh. That infectious joy takes me back to hearing "This Is The Night" on the radio during that happy-hearted summer. It was the year of the loss that turned into a series of victories: a number one single, a number one album,
"Measure of A Man"
, the cover of Rolling Stone, the American Music Award and the Billboard Music Award, and too many best-of lists and magazine covers to recount.
In his early television interviews, he had said that he wanted to make a difference. This was the year that Clay graduated from college with a degree in special education and started The Bubel/Aiken Foundation, too.
At the end of this incredible year, Clay is the perfect New Year's cyber-date, appearing on MTV. The crowd of his contemporaries has a good time.
The wheel spins again and it's
2004
.
"Live from New York, it's Saturday Night!"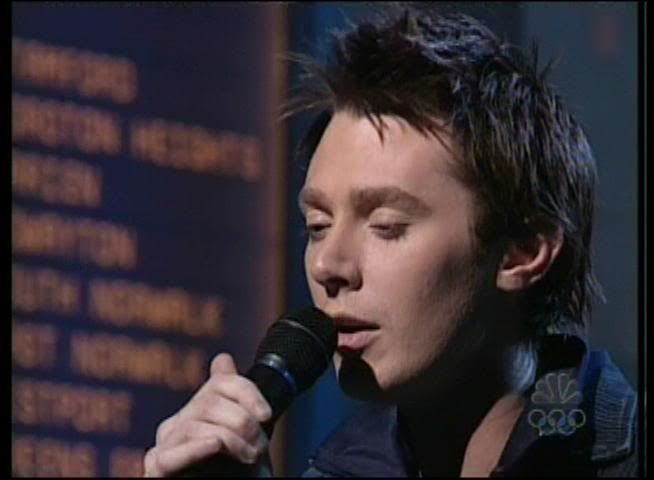 Clay sings "Invisible", which had a brief run on the charts, and introduces "The Way." He shows a flair for comedy, appearing in a couple of skits that mock some stereotypes about him. Later, he guest stars on "Ed" --- and delivers a comic smack down to Jimmy Kimmel, a former nemesis who has the insight and good taste to become a friend.

Clay goes on another nationwide tour, this time co-headlining with Kelly Clarkson. Some critics say he stole the show: talent and charisma will do that. In any event, he shows new levels of range and versatility, and in his tour mate, he makes another good friend.

This was the year of the never-ending tour. It starts with the Independent Tour, rolls into the summer as the solo NotATour and finishes the year with Clay making a Joyful Noise. Each tour offers something different, something challenging, something amusing. Clay sings every song from "Measure of a Man" --- except "Touch." He sings Avalon and U2. He sings Sting and James Taylor and Prince. He sings about the body and he sings about the soul, the sinner and the saint in every human being.

He'll sing "Proud of Your Boy" for the reissue of Walt Disney's "Aladdin."

In his spare time, he appears at benefits for America's Promise, the Rosalynn Carter Institute for Caregiving and at benefit galas for his own Bubel/Aiken Foundation.

He writes a book, the inspirational memoir Learning to Sing, and ends up on the New York Times Best Sellers List.

UNICEF names him an ambassador. His focus is education for all children worldwide.

And Clay releases his second album, "Merry Christmas With Love." It shatters first week sales records for a holiday album and ties the record for debuting chart position at #4.

As the year ends, Clay will executive produce and star in his own television special, "A Clay Aiken Christmas."

He is chosen to ride the first float for the Ronald McDonald House Charities in the Tournament of Roses Parade on January 1.

Two years, and Clay has gone from strength to strength. So much music, so many memories, such stellar accomplishments.

Again the wheel spins, the music plays, the colors whirl.

It's 2005.

I know the voice, but the music is unfamiliar. The image comes into focus: it is a beach in Banda Aceh, Indonesia. There, Clay and fellow UNICEF ambassador Ferry Salim sing and play with a group of children, some orphaned, some homeless, all with lives disrupted when everything that was normal was swept out to sea under the force of a devastating tsunami.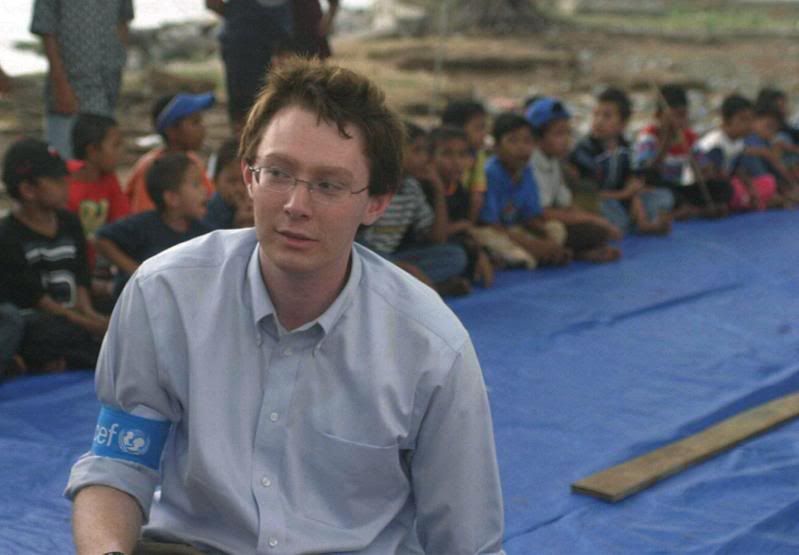 Clay sings:

Disini senang, disana senang
Dimana mana hatiku senang.

I am happy here, I am happy there,
My heart is happy everywhere.


He can relate to these children, because he shares their remarkable resilience. His life has often been a very difficult road, but he has always been a strong person. Without doubt, he has known tremendous sorrow, but he is a man of faith and that is a key to surviving, overcoming, and then thriving. When Clay sings "My heart is happy everywhere," I believe him.

This is the year Clay will guest star on "Scrubs", help twin girls go to college on "Oprah's Wildest Dreams", talk to kids about overcoming bullying on "Dr. Phil", host the Emmys for "The Insider", sit in the front row for the Kenneth Cole show at Fashion Week and start an Official Fan Club.

He will deliver the keynote address at the Pacific Rim Conference on Disabilities and the Fearless Caregivers Conference, and appear at benefit galas for BAF in Hawaii and in Florida.

He is named the 2005 Spokesman for Trick-or-Treat for UNICEF, raising funds for children in underdeveloped nations and, for the first time in that charity's history, for children here in the United States affected by the ravages of Hurricane Katrina.

In May, he will visit camps for displaced people in war-torn Northern Uganda. He will meet with the night commuters, children forced by war to leave their homes each night for the relative safety of the cities, and talk to other children who were abducted and forced to kill as soldiers for the Lords Resistance Army.

He decides to leave Los Angeles and move back home to Raleigh --- where he belongs.

That summer, Clay salutes the fifty years of rock and roll on the Jukebox Tour. He channels Elvis, teases like the Killer ("Oooooooo, feels good…"), communes with the spirit of Marvin Gaye, breaks hearts with the music of Bonnie Raitt, gives a nod to nothing-like-him Manilow and a wave to little-bit-like-him Astley --- and shows audiences that he is one of the few singers alive who could sing so many different styles so successfully --- and so authentically. He tries out four songs from the album he has been working on ("It'll be ready when it's ready.") and introduces his executive producer Jaymes Foster Le… er, Jaymes Foster, who has become his good and loyal friend. Rock Star Clay is "Back for More," premiering a song that should be all over the radio, the radio, the radio. The balladeer in him is left wondering what happens "When Tears Run Dry." These are good songs, very good --- the first hints of a successful follow-up album.

In the fall, Clay says he's recorded enough songs for four or five albums. He's done. He won't record more unless the theme is Mongolian Polka.

Clay doesn't release an album in 2005. He tours again at the end of the year with the Joyful Noise 2005 Tour. It's a sweet show he wrote himself, with acting, dancing and the best voice around right in the middle of it all.

And so the year ends.

The music fades to an echo. For a long time, there's nothing to see in the kaleidoscope. It's a time that comes to be called the drought of 2006.

For five months, Clay is more-or-less silent: no television, no radio, no personal appearances, no concerts.

In the vacuum, there is tabloid BS. It is transparent fiction, "scurrilous lies" as Clay will say later. The fans are still there, circling their wagons around him. He is family, and we know who he is.

Clay talks to us through his blogs on the OFC. He tells us he is still working on the album, explains that Clive Davis has introduced a new concept, and asks us to open our minds and prepare for something different. It is a very quiet time for Clay publicly, because in the world of what really happens, Clay Aiken leads "a boring life." Well, perhaps not boring, but it is typical in many ways. He spends his time with family and friends. He moves into his new house. He works, and "Entertainment Weekly" reports he is looking at original songs and "lots of covers."

Clay is seen on dates a couple of times, going to shows in New York. He tells us about his Eastern European vacation from hell with his best friend Kristy, with sightseeing in freezing weather --- then illness that lands him in the hospital.

There is still no release date for the album.

There is still no news from Clay.

In May, there are rumors that he will appear on the American Idol 5 finale. The rumors are denied, confirmed, then denied again.

After three years, he hasn't lost his ability to capture the attention of the press and the public. There are dozens of articles in the press, speculating about the speculation.

Clay appears with no introduction, shocking the hell out of an idolizing fan who had been doing a cartoonish imitation of him --- and capturing the attention of the 38 million people watching at home. Clay, as always, is gracious, singing part of "Don't Let The Sun Go Down On Me" with the fan, before turning his attention to the audience and bringing down the house. His Beatles-meets-emo-meets-anime hairstyle is long and dark, his suit is impeccably tailored and he sounds wonderful.

The next day, every newspaper in the known universe leads off with news of Clay's surprise appearance on the show. Some of them mention Prince, too, but the other top name guests are more or less forgotten.

Who won that thing, anyway?

For the first time since his public life began, there is no summer tour.

Three years after his record-breaking debut album, there is finally a release date for Clay's follow-up. It is a concept album: Clay will cover popular love songs from the past thirty years, as well as sing four original songs.

It is Clive Davis's idea, his suggestion, his concept, his mandate.

There is very little pre-promotion for the sophomore album of an artist who has sold four million CDs and more than a million singles. A photo shoot shown on Entertainment Tonight and The Insider reveals a man who has matured, who is self-aware and a bit somber. He has grown from a cute and goofy kid to a serious and handsome man. There is, at the end, a hint of a smile.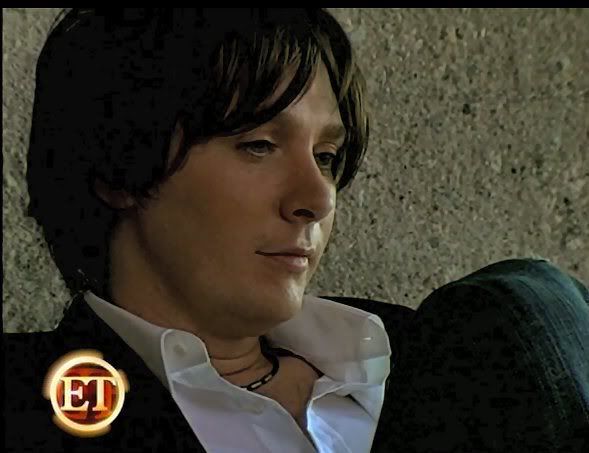 On September 19, almost three years after the release of his debut album, A Thousand Different Ways finally drops.

Clay presses forward. He appears on "Good Morning America" three times in one week, performing on one show and doing a two part interview in which he talks about tabloids and reveals his struggles with anxiety.

He appears as Storyteller Clay on "The Tonight Show," cracking up Jay Leno with his tall tales of the European vacation. He is even funnier on "Jimmy Kimmel Live," coining half a dozen memorable lines and performing a five song mini-concept for those, like me, who were fortunate enough to be there. Just one and a half songs, "A Thousand Days" and "Invisible" are shown on air, with "When I See You Smile", "Sorry Seems To Be The Hardest Word" and "Without You" joining the list of lost Clack.

He takes his grandmother to visit Martha Stewart, enchants the ladies of "The View", trades quips with Megan Mullally and spends an hour in mutual flirtation with Tyra Banks.

He rises above the bizarre invective of a woman who shows the world that she can dish out mockery, but she cannot take a joke.

He sings. He sings, and the music rises from his belly, glows in his eyes and shoots out of his fingertips. His voice, as it was in the beginning, is clear and true.

In concept and in execution, the album is not what many would have expected. "A Thousand Different Ways" debuts at #2. It has been certified gold. The first single, "Without You", touched the Top 30 on the AC chart. A second single, an original song called "A Thousand Days", is slowly ascending the charts.

Many of the songs on this album were brilliantly reinvented. Most critics don't seem to care: they review the idea, completely missing the creativity and inventiveness of the actual work. Clay's voice has never been better: as every year passes, he's grown as a singer and as an interpreter of songs.

But there is something more. For the first time, Clay has writing credits, something he said he would not take unless he made a significant contribution to a song. (He is also responsible for the New Age arrangement of "Broken Wings.") Clay is one of four songwriters for "Lonely No More," but he has the sole credit as the lyricist on "Lover All Alone", arguably the best song on the album. Combined with David Foster's riveting melody and Eman's skillful production, the song is spare, haunting and heartbreaking, with an extraordinarily nuanced vocal and a mature, honest and introspective lyric.

Sadly, the song is not technically on the album. Half a million people have bought the album, but "Lover All Alone", which I consider Clay's best work in his four years as a recording artist, is available only as a bonus track for those who buy the complete album as an iTunes download.

There are perhaps as few as 25,000 people who have purchased it.

In November, there is more music. It is a holiday EP called "All Is Well", featuring three newly recorded songs and a fourth that he has sung during his Christmas tours --- and in their second collaboration, Clay is listed as the Executive Producer, along with Jaymes. It is a masterful production, featuring what are arguably Clay's finest recorded performances to date. Despite the fact that "All Is Well" is exclusive to WalMart, the nation's largest retailer of music, the CD is almost impossible to find.

He ends the year with the Christmas Symphony Tour, aka the Joyful NotATour 2006. After the previous holiday tour communicating only through song, he has brought back Bantering Clay. He is the self-proclaimed King of Controversy, the Sultan of Scandal, as he mocks the ridiculousness of the rumors that trail those who are in the public eye.

He has grown into a truly wonderful entertainer but, more than that, he is proving his early promise as one of the preeminent singers of his generation.

It is all but impossible for me to explain how far Clay has come since "Take" --- his voice has added many layers of color and texture and his interpretive skills have grown exponentially.

He is no longer just a really fine singer. Clay has become an artist.

I don't know if his record label realizes that, but Jaymes Foster's brother David Foster, the musician, composer and producer who has won fourteen Grammy Awards, recognizes and appreciates Clay's talent. At the David Foster and Friends Gala in September, David introduced Clay in the most glowing of terms, calling him "the fantastic Clay Aiken."

It was a difficult and disappointing year, but that is the hope I hold on to as I look to the year ahead.


2007, and now a fifth year with Clay Aiken begins. I can still hear the question that was asked when the world at large first met him.

"What's special about him?"

The Voice.

The Heart.

The Humor.

The Face.

The Frame.

The Memories.

The Future.

From "Take time to tell me"…

to "Take these broken wings"…

to the challenges he will take on tomorrow.

So spin the wheel, and think about the music he will make in the year ahead. Listen to the melody of imagination. Visualize the images that will come to pass.

This week, Clay will appear on "Good Morning America" and this time he will talk about something really important --- his experiences as a UNICEF Ambassador.

Two weeks from now, on Valentines Day, he'll return to "Jimmy Kimmel Live." The quips will fly and the laughter will be real and deep.

Sometime during the year, Clay will return to the concert stage, a place where he is utterly and completely at home. Thousands will come together to share the experience. The music will be outstanding, and many will remember his performances for years. The quicksilver banter will be deeply amusing. The joy will be tangible.

And as for what else lies ahead?

Clay has said that he is excited and happy, and I have a feeling that in the coming months, many of his fans, old and new, will share that excitement and happiness with him.

Clay has said that he hopes that we will be proud of him.

Proud of him?

Clay Aiken, you gorgeous goofball, through all of your words and actions for the last four years, you have given me nothing but reason after reason to be proud of you.

You have survived the rigors of fame. You have overcome the challenges and the controversies. You are no false idol. You have shown that you are a flawed and utterly remarkable human being.

So spin the wheel, and reveal the new photographs, the new memories, the new music that you will make. The very thought of all of your promise continues to thrill me.

Wherever you go, Clay, whatever you do, I know that there will be fun and exciting times ahead. I can see it in your smile.

Godspeed.

I thank you.

I love you.

See you tomorrow.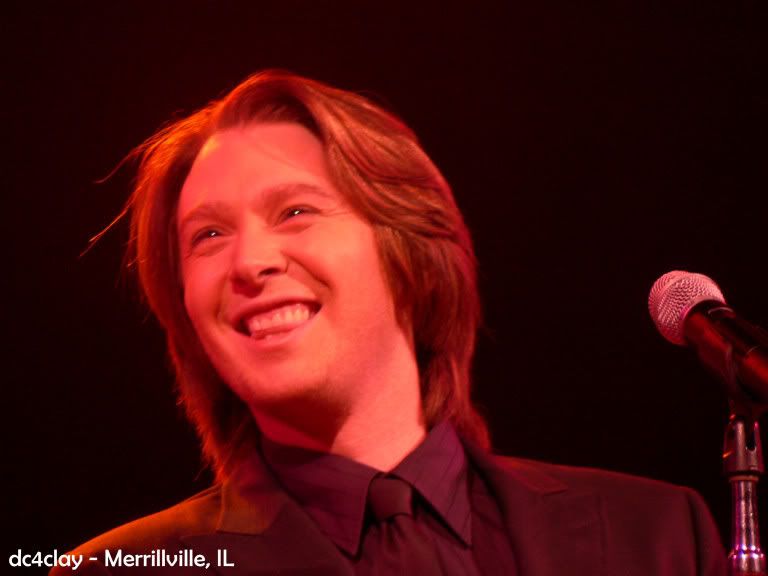 Photo from Merrillville concert by

dc4clay

.

Here's a wonderful blog worth reading Reality Check - The Truth About Clay Aiken



Technorati tags: Clay Aiken, "American Idol", "Rolling Stone", "Measure of A Man", American Music Awards, Billboard Music Awards, Bubel/Aiken Foundation, Saturday Night Live, Jimmy Kimmel, UNICEF, "Learning To Sing", "Merry Christmas With Love", "A Clay Aiken Christmas", "Scrubs", Oprah Winfrey, Jaymes Foster, "Entertainment Weekly", "A Thousand Different Ways", "A Thousand Days", "Lover All Alone", David Foster, Eman, "All Is Well"
Tweet